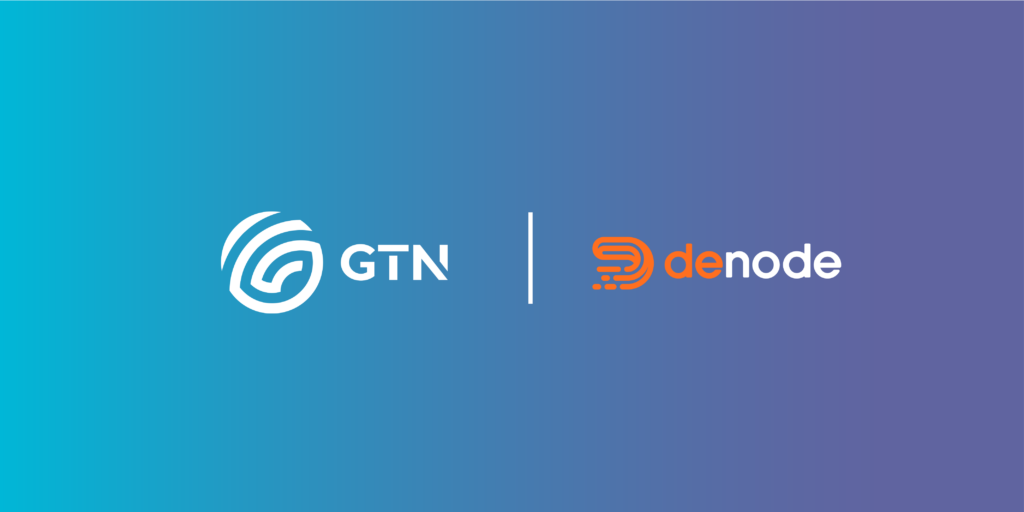 Denode

selects GTN to offer global investment opportunities to Mongolian investors



SINGAPORE, May 4, 2023 | GTN, a successful fintech pioneer with decades of success making investment and trading accessible for all, has joined forces with Mongolian fintech Denode. The partnership will provide retail investors in Mongolia with a comprehensive range of tokenised assets from various regions, enabling global market access.
Denode is a blockchain-based digital trading platform operating within a regulated financial environment, providing clients with access to various tokenised asset classes. The collaboration with GTN will enable Denode to enhance its services and cater to the dynamic needs of investors locally and globally. 
Ankit Shah, GTN Global Head of Fintech, said there is a fundamental shift in the mindsets and expectations of Mongolian retail investors. "Their expectations continue to evolve quickly in line with those in other frontier markets; they seek to diversify their investments into different markets and asset classes," he said. "By joining forces with us, Denode will be able to develop its offerings through the provision of seamless access to multiple markets and asset classes worldwide, so it can concentrate on doing what it does best – providing the best-in-class service that its clients deserve." 
GTN's single API framework streamlines user authentication, onboarding, order placement, and trade operations management, allowing fintech firms like Denode to focus on their strengths. GTN is dedicated to enabling its clients through innovation and added value as they grow and expand their businesses. 
Bilguun Dashdorj, CEO of Denode, stated, "We are thrilled to partner with GTN and leverage their market access and technology expertise. This collaboration will give us access to a wider range of investment products, such as tokenised stocks from around the world, allowing us to better serve the needs of retail investors in Mongolia and internationally. We look forward to offering our clients a new era of innovative investment opportunities and the tools they need to grow their portfolios and achieve their financial goals." 
The Denode platform was launched in February 2023, offering its clients the ability to trade virtual assets such as cryptocurrencies with global liquidity. In addition, the partnership with GTN will add globally traded tokenised stocks to its offerings, marking the start of a new era of investing for retail investors in Mongolia and other emerging economies around the world.
About GTN
GTN is a fintech pioneer with decades of success, holding broker-dealer and capital market services licenses in multiple jurisdictions through its subsidiaries. We are committed to empowering brokers, banks, asset managers, and fintechs with scalable and innovative investment and trading solutions that enable access to a comprehensive network of global markets and multiple asset classes making investment and trading accessible for all. GTN's investment and trading solutions offer seamless integration with the existing services of regulated financial firms and fintechs via our co-branded front-ends or versatile API suite. The GTN API suite, inspired by embedded finance, provides the adaptability to develop bespoke trading/investment applications or incorporate GTN features into existing platforms, enhancing their value proposition. In addition, our comprehensive global trading ecosystem includes best-in-class execution, custody, and post-trade solutions.   
GTN brings together a diverse team of over 300 talented individuals across Dubai, Singapore, South Africa, Sri Lanka, the UK, and the US, united by a shared passion and purpose: empowering clients and transforming the accessibility to investment and trading opportunities to all. We are backed by strategic investors like IFC, a member of the World Bank Group, and SBI Ventures Singapore Pte. Ltd., a group company of SBI Holdings, Inc., one of the largest financial services firms listed on the Tokyo Stock Exchange. To learn more, visit www.gtngroup.com or connect on LinkedIn. 
About Denode
Denode is a licensed virtual asset service provider from Mongolia, with expertise in tokenising assets on blockchain. The company is dedicated to offering top-notch global services to its clients and is committed to meeting their dynamic needs and diversified portfolio allocations effectively by reducing the cost of investments and execution times. The exchange offers a range of services, including trading, listing, and issuance of tokenised assets, as well as trading a wide selection of cryptocurrencies. 
Denode is a subsidiary of AND Global Pte Ltd., a leading technology company with strategic investments from SBI Holdings Inc. and Marubeni Corporation. Its team members have extensive knowledge and experience in developing trading platforms in both traditional financial markets and the new and emerging blockchain-based virtual asset markets. With the launch of the Denode platform, the company aims to usher in a new era of investing for its clients. To learn more, visit https://denode.io or connect on LinkedIn.